In the past 10 years, China's auto industry has experienced a transition from rapid incremental development to stock competition. During this process, some people sang all the way, some left the stage sadly, and some faced being marginalized.
At this time, Beijing Hyundai was facing an unprecedented danger of being marginalized.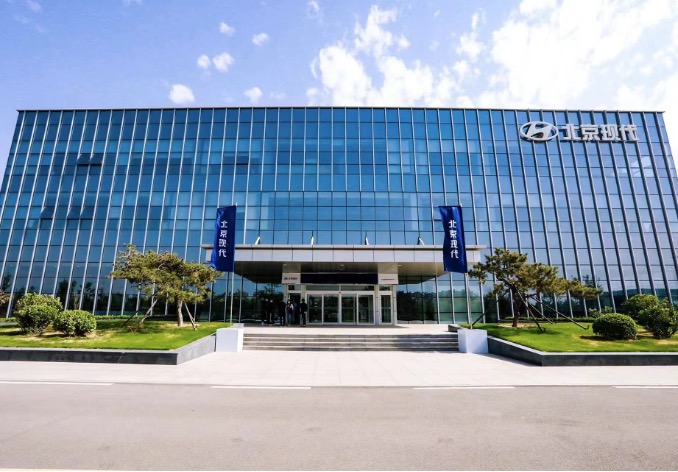 From 860,000 vehicles in 2012 to a peak of 1.14 million vehicles in 2016, and then gradually declined to 816,000 vehicles in 2017, 746,000 vehicles in 2018, 703,000 vehicles in 2019, and 385,000 vehicles in 2021, Beijing Hyundai has stepped out of a Wave standard "A-word kill".
At present, the automaker whose sales were once second only to "North and South" Volkswagen and SAIC-GM has been in decline for five consecutive years. Not surprisingly, it is still difficult to recover this year.
According to the data from the Passenger Federation, from January to May this year, Beijing Hyundai sold 76,062 vehicles in total, down 53% year-on-year. The low target of 200,000 vehicles set at the beginning of the year seems a bit unattainable now.
For comparison, FAW-Volkswagen, which won the championship from January to May this year, sold 652,942 vehicles in total; the single-model champion Nissan Sylphy sold more than 170,000 vehicles from January to May, more than double the overall sales of Beijing Hyundai.
Even if you compare the new forces that are still in the development stage, the sales volume of Xiaopeng Motors reached 68,983 units from January to June, and the volume is already on a par with Beijing Hyundai.
As a result of the decline in sales, Beijing Hyundai has also changed from a "profit cow" to a "money-burning machine".
Beijing Hyundai has lost 6.28 billion yuan and 5 billion yuan in 2020 and 2021, respectively, and has accumulated losses of more than 110 yuan in two years. To this end, in March this year, the two shareholders urgently announced a joint capital increase of about 942 million US dollars (about 6 billion yuan) to Beijing Hyundai as a "blood transfusion".
At present, BAIC Group has four major vehicle segments: BEIJING Beijing, Beijing Benz, Beijing Hyundai and Fujian Benz, only the Beijing Benz business segment is outstanding. In 2021, BAIC's operating profit will be RMB 13.042 billion, of which the pre-tax profit contributed by Beijing Benz is approximately RMB 11.3 billion. The original situation of "two dragging two" gradually evolved into "one dragging three".
The story of how Beijing Hyundai fell from the altar, how high-end failed, and how the "multi-generational same class" of models led to internal competition in the same industry is a commonplace. On the other hand, the poor performance led to the frequent replacement of the person in charge of China by Hyundai Korea, which is even more detrimental to business development and strategy execution during the turbulent automotive industry transformation period.
And when the "external environment" becomes severe, the originally concealed core product power problem is further exposed.
Recently, Beijing Hyundai announced that Wu Zhoutao was appointed as the executive deputy general manager of Beijing Hyundai, and Qi Xiaohui, the director of the management department, was appointed as the deputy director of the sales department of Beijing Hyundai. Public information shows that Wu Zhoutao entered the automotive field as early as 1999 and has at least 20 years of working experience in the automotive industry. He has worked in FAW Group and BAIC Group successively. When he first joined BAIC Group, Wu Zhoutao worked in Beijing Hyundai Motor Co., Ltd., and successively served as sales staff, sales logistics section chief, sales copy director, and deputy general manager.
The return of Wu Zhoutao is just a microcosm of Beijing Hyundai's frequent personnel changes in recent years.
Going back to 5 years ago, in 2017, Beijing Hyundai's sales stopped at the highest point and opened a downward channel. That year, Chen Guixiang succeeded Liu Zhifeng as the executive deputy general manager of Beijing Hyundai. A year later, in July 2018, Chen Guixiang was transferred to the R&D system of BAIC Group. Liu Yu, Vice President of BAIC Motor, Secretary of the Party Committee of the Research Institute, President and Director of the Purchasing Center, succeeded Chen Guixiang as the Executive Deputy General Manager of Beijing Hyundai.
In June 2020, Liu Yu was transferred to BAIC New Energy, and Du Junbao took over as the head of Beijing Hyundai China. In 2021, two deputy general managers of Beijing Hyundai, Xiang Dongping and Fan Jingtao, will also leave. And now, Du Junbao's baton will be handed over to Wu Zhoutao.
The share of Korean brands has declined, brand building has failed, factories have been sold to ideals, luxury brands have continued to erode the market, and independent brands have continued to make breakthroughs... Beijing Hyundai, which has been "overworked", wants to restore competitiveness simply by changing coaches.
From the product level, Beijing Hyundai's main model sales are not without a trace. Taking its highest-selling model, the seventh-generation Elantra as an example, sales in May were 3,789 units, down 64.21% year-on-year; from January to May, sales were 23,734 units, down 54.44% year-on-year.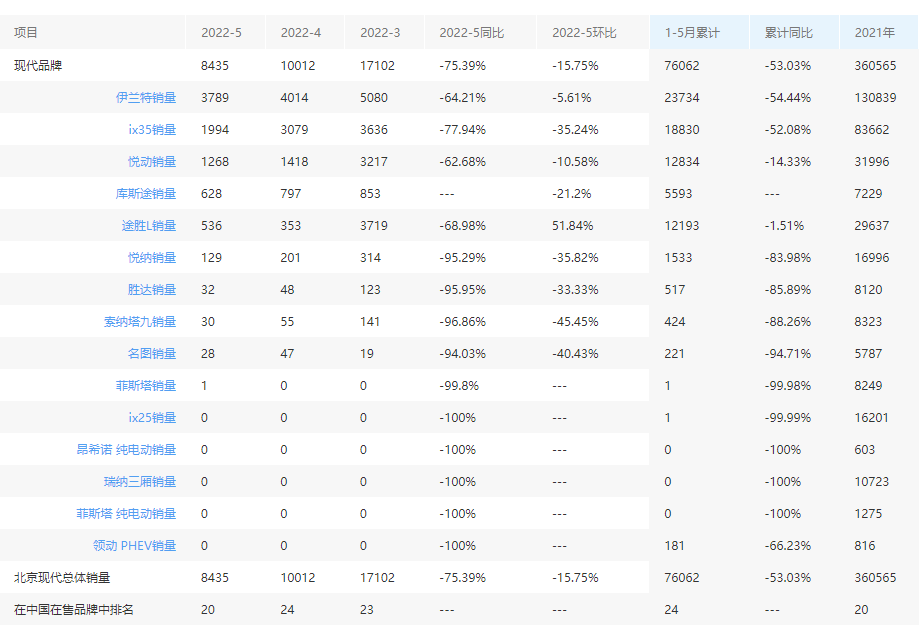 In the circle of Elantra car friends who know the Chedi App, the top three factors for Elantra owners to choose to buy it are "good-looking", "sufficient power" and "complete configuration". The sharp-edged, tortuous seventh-generation Elantra's design accomplishments are beyond reproach, and it is in line with the aesthetic style of young people in the current era.
When it comes to power, the 1.6L+CVT version is equivalent to writing the words "weak power" on its face, while the 1.4T+7DCT version has a maximum power of 140 horsepower, which is only quite satisfactory. As a comparison, both Volkswagen Bora and Lavida, which are both joint venture brands, have 150 horsepower, and the Nissan Sylphy 1.6L has a maximum power of 135 horsepower.
However, if the Geely Binrui, which sells for less than 100,000 yuan but has 181 horsepower, and the Changan UNI-V, which sells for 129,900 yuan and 233 horsepower, are compared, the 140 horsepower that the Elantra can only get from 120,000 to 140,000 yuan appears to be stretched. .
The "complete configuration" is also very easy to replace. Especially in the face of Chinese brands, discussing the configuration of joint venture cars is like "managing an axe."
In fact, this year's environment is more friendly to the 100,000-150,000 joint-venture compact sedan market than in previous years. The "China Auto Trend Observation" report released by the Autohome Research Institute in June 2022 pointed out that the frequent occurrence of gray rhino events in 2022 will degrade people's consumption. From the perspective of the overall user base, the proportion of consumers with medium and high budgets between 200,000 and 500,000 yuan fell by 15%, while the proportion of low- and medium-budget consumers between 100,000 and 200,000 yuan increased by 17%. This is good news for the lower-level models in which the Elantra is located.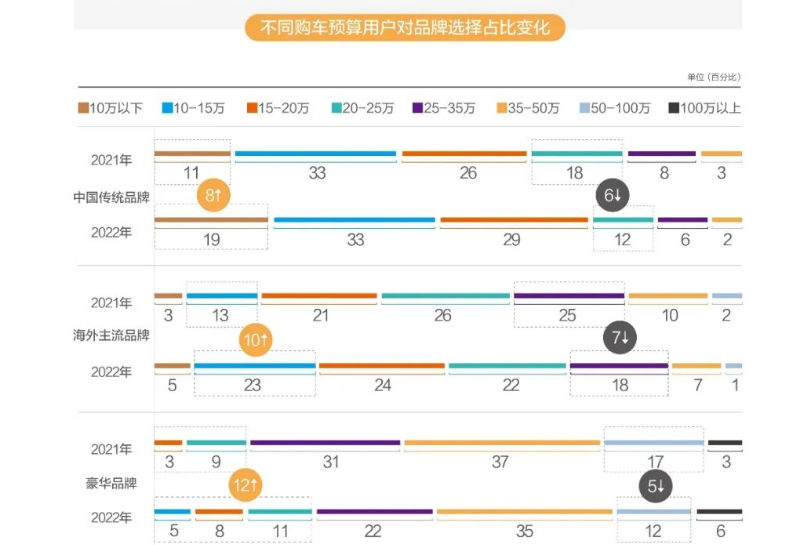 Specifically, compared with 2021, the proportion of users with a car purchase budget of 100,000-150,000 yuan choosing overseas mainstream brands in 2022 will increase from 13% to 23%. In other words, in this price range, there are far more people than before who are willing to choose joint venture brands.
With this background in mind, it's even more worthy of reflection that the Elantra's sales have fallen sharply.
After the Elantra, another main model, the ix35, is facing the situation of being attacked by the enemy. In May this year, its sales volume was 1,994 units, a year-on-year decrease of 77.94%; the cumulative sales volume from January to May was 18,830 units, a year-on-year decrease of 52.08%. At its peak, the monthly sales of the ix3 reached 25,000 units.
The ix35 is positioned as a compact SUV, with a guide price of 129,800-155,800 yuan. Compared with mainstream compact SUVs of independent brands, such as Haval H6 and Changan CS75 PLUS, the official guide price of Hyundai ix35 is slightly higher. Compared with the mainstream compact SUVs of joint venture brands, such as Honda CR-V and other models, the official guide price of Hyundai ix35 is slightly lower.
It is clear that the ix35 has taken a path of dislocation competition. However, this kind of trick of "higher than independent, cheaper than joint venture" will become a bad card of "product power is weaker than independent, and brand power is not as strong as joint venture". At this stage, ix35 belongs to the latter.
On a compact SUV, the mainstream practice of car manufacturers is 2.0L, 2.5L self-priming plus hybrid, such as RAV4; or 2.0T power, such as Haval H6, Changan second-generation CS75 PLUS. The maximum power is between 170 horsepower and 230 horsepower, which belongs to the range that matches the power and the model. On the Beijing Hyundai ix35, it is still the 1.4T with a maximum power of 140 horsepower on the Elantra, and a 2.0L model with a maximum power of 160 horsepower. The direct parameters that consumers are most concerned about, such as body size (4500mm) and wheelbase (2640mm), also lag behind the competition.
In terms of configuration, according to public product information, mainstream practical configurations such as electric rear tailgate, HUD head-up display, and reverse side warning are absent on the ix35. Although the parameter configuration cannot represent the actual comprehensive performance of the vehicle, if the book data loses points, it is difficult for consumers who "do not understand cars" to be interested in further understanding.
On the other hand, the quality problem of ix35 is also a headache for users. According to the information of the car quality network, the engine, gearbox, body electrical appliances and accessories are the three types of problems with the most complaints about the car.
Among them, the 2.0L model engine has frequent cylinder knocking, abnormal noise, and stalling during driving. A user of the 2020 2.0L automatic four-wheel drive Zhiyong flagship version said that the vehicle purchased in July 2020 found that the engine was noisy on July 18, and there was a problem of stalling during normal driving. The 4S shop did not solve the problem after changing the exhaust, oil, and cleaning the throttle, and did not agree to change the car. Two years have passed and the problem has not been resolved.
And the 7-speed dry dual-clutch gearbox that is equipped with it is even more problematic. From the innate structure, dry dual clutches are more prone to overheating than wet dual clutches, so more heat dissipation holes are required, and internal structure corrosion is more likely to be formed when encountering humid air during daily driving. The Volkswagen DSG incident a few years ago was also caused by this. The 7-speed DCT of Beijing Hyundai is not only used in the ix35, but also in many models such as Festa and Sonata. In the category of user complaints, the abnormal noise of the gearbox, the stumbling, and the pulling feeling are obviously the main problems of this car.

Previously, Beijing Hyundai's sports-oriented flagship product, Festa, has been on the market and sales have been rising steadily, even overshadowing the Civic and Lynk & Co 03 and other favorite models of enthusiastic young people, with monthly sales reaching 20,000 units at the peak. Today, the cumulative sales from January to May 2022 is only 1 unit, with a cumulative year-on-year decline of 99.98%. To a large extent, it is also because of being "dissuaded" by this dry dual-clutch.
In addition to Festa, the cumulative sales of ix25, Sonata, Shengda, Oncino pure electric, leading PHEV, Rena, Yuena and other models ranged from zero to hundreds of units this year. Looking at Beijing Hyundai, whether it is a fuel vehicle product line or a new energy product line, it can be said that there are many sorrows. As Hyundai's first electric vehicle in the true sense, the IONIQ 5 has already been launched overseas, but it will have to wait until next year for its introduction in China. Beijing Hyundai seems to have been on the sidelines when Chinese brands continue to launch products with "the best under 500,000" and "the strongest under 5 million".
For this Sino-Korean joint venture brand, the new round of high-level changes will not be a signal of "stopping the fall and rebounding", it was not before, and it is not now. If there is no product, the future cannot be either.
Do you think Beijing Hyundai can return to its peak?
People involved
The road ahead is difficult
The road ahead is difficult