As the world's largest automotive technology supplier, on May 10, Bosch China 2022 press conference came as scheduled, and the new chairman of the Bosch Group Board of Directors, Stefan Hartung, who took office earlier this year, also appeared in front of the Chinese media for the first time.
Affected by the rapid recovery of China's auto market and Bosch's own long-term adherence to the localization strategy, Stefan Harton said that in 2021, Bosch Group's sales in China will reach about 128.6 billion yuan (about 16.9 billion euros), a year-on-year increase of 2020. An increase of 9.6%, while the performance maintained growth, it also set a new high in sales in China.
"China will continue to be the largest single market of the Bosch Group. In the long run, Bosch will continue to adhere to localized development and actively deploy strategic key areas including electrification, hydrogen energy, fuel cells, artificial intelligence and Internet of Things technology innovation." Stefan Harton said.
According to reports, in the past ten years, Bosch has invested more than 50 billion yuan in the Chinese market. The construction of localized R&D capabilities is naturally inseparable from the support of local R&D talents. Overall, the number of Bosch employees in China has increased by nearly 3,000 in the past year, of which about 1/3 of the growth has come from R&D personnel, mainly in areas such as autonomous driving, software services and automotive engineering. Taking the Bosch Intelligent Driving and Control Division as an example, the staff size of the R&D team in the past year has increased by more than 23% year-on-year.
In order to attract more talents, Bosch China has also invested more than 50 million yuan in school-enterprise cooperation in the past ten years, and established long-term cooperation with many Chinese universities in the fields of fuel cells, autonomous driving, and intelligent manufacturing. Chen Yudong, President of Doctor China, said that Bosch will add more than 4,000 jobs this year, providing local talents with a broad platform for innovation and development with a global perspective.
For sustainable development, Bosch will continue to invest in technological innovation and develop solutions for energy diversification. In this regard, Stefan Harton said, "Bosch will invest 3 billion euros in technological innovation around the goal of climate neutrality in the next three years."
Among them, electrification and green hydrogen will be the two major strategic priorities. Bosch plans to invest nearly 500 million euros in the development of hydrogen electrolysis components by 2030. The related products are planned to be launched in 2025, and half of the investment will be implemented before the products are launched. Taking hydrogen fuel cells as an example, Bosch has continued to invest in building local capabilities since 2018. It has developed higher-power hydrogen power modules and will achieve local production in 2022. At the same time, Bosch is working with Qingling, Weifu and Weichai to jointly invest and cooperate to actively promote the development of hydrogen power systems and stationary fuel cells in the local market.
As Chen Yudong envisioned at the beginning of the new decade two years ago, Bosch, which takes the lead in technological innovation, is still leading the development of the industry, but the crisis caused by the general environment to the industrial chain has not been dissipated, and it is still repeated.
Affected by the shortage of raw materials and the spread of the epidemic in many places in China, Bosch's production capacity and logistics have been limited. Bosch's production in Xi'an, Suzhou, Changchun and other places has been affected successively, while Bosch's three auto parts factories in Shanghai and Taicang, Jiangsu and the thermal technology factory in Jiading, Shanghai are still in closed-loop production due to epidemic control.
Repeated epidemics, chip shortages, and pressure on the supply chain will continue, along with cost pressures from rising raw material, energy and logistics prices. Globally, the European conflict and its potential impact is also one of the major uncertainties affecting the balance of supply chains.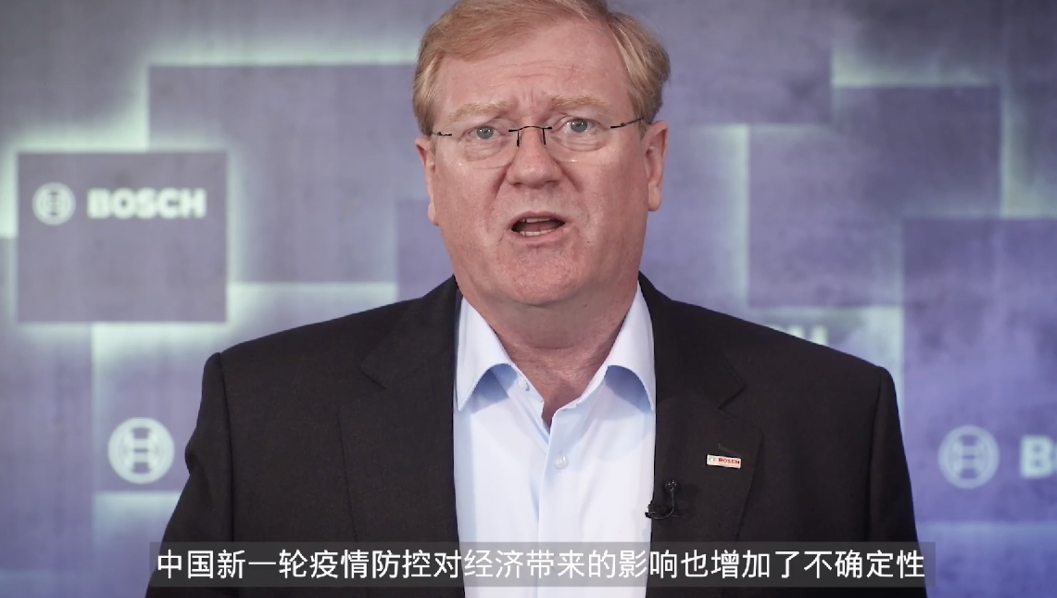 Stefan Hartung, Chairman of the Board of Directors of Bosch Group
In the face of many uncertainties, Stefan Harton said that it is difficult to make accurate predictions about the overall performance of Bosch in the future this year.
"But in order to guarantee supply, Bosch can be said to be ignoring the cost." Chen Yudong said that under the expensive logistics and parts costs, Bosch's current output capacity is 30% to 50% of the normal level. The situation is slowly improving as more and more companies resume work and production, but May is still a difficult month.
"As the epidemic gradually eases, and the government and industry associations attach great importance to and support for the resumption of work and production, we have seen a positive trend of improvement. However, the supply chain of industries such as automobiles is very long and interlinked. The overall restoration of production capacity requires every production It still takes time and joint efforts to open up the supply and logistics and transportation links." Chen Yudong finally said that despite the difficulties, he still judged that Bosch China's business will still maintain a "slight increase" in 2022.